Patsy Stone, 39, International style and beauty guru
Posts: 7888
Joined: 26 Jan 2008, 23:16
Location: Edinburgh
Favourite: Absolutely Fabulous
Avengerdan wrote:Really chuffed about the Downton Abbey parody (and - I suspect a bit of Upstairs Downstairs to go with it). Dawn as the cook, Mrs Patmore, Joanna as the Dowager (Maggie Smith), Jennifer as Cora? Or perhaps they could bring in June Whitfield for the Maggie Smith part and give Joanna Isobel (the Penelope Wilton part)?

Incidentally Victoria Wood did a send up of Lark Rise called 'Lark Rise to Cranchesterford'.

http://www.youtube.com/watch?v=KDhWcLceDhk

Yes, Philippa you need to watch Downton Abbey. It's a great 'feel good' show that seems to go by in a flash. A sign of great telly.
Hahaa that was brilliant. Love Victoria Wood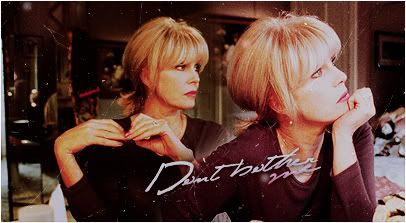 It is a miracle I can walk at all. I bless the wonder of life and the newness of living ~ Patsy Stone