Patsy Stone, 39, International style and beauty guru
Posts: 7888
Joined: 26 Jan 2008, 23:16
Location: Edinburgh
Favourite: Absolutely Fabulous
Apparently there won't be a 3rd series of Jam & Jerusalem after all. Instead of that, they'll do 3 specials.
I'm a bit disappointed that they won't do a full series, because it's such a great show and I love it dearly. But I do understand, with French & Saunders taking their tour to Australia this summer, they probably didn't have enough time to shoot a full series. It's a pity, but at least specials is better than nothing!
So, let's get speculating. What do you think (or would you like) to happen?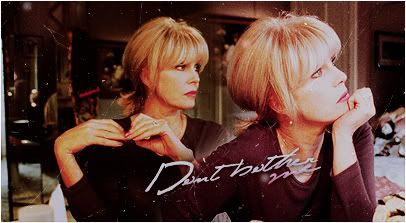 It is a miracle I can walk at all. I bless the wonder of life and the newness of living ~ Patsy Stone