Patsy Stone, 39, International style and beauty guru
Posts: 7888
Joined: 26 Jan 2008, 23:16
Location: Edinburgh
Favourite: Absolutely Fabulous
The latest episode I've seen is 'Dirtier by the dozen'
Great episode, Purdey in red, Gambit in uniform...anyway drifting off.
It's a very good episode, good plot. A lot of great Purdey moments in this episode. Purdey running through the field when she sees the wounded man, Purdey in the bar with the soldiers. Purdey getting locked up:
What, no hair-dryer?
The little scene when Gambit and Purdey are both whistling to locate each other is really lovely too.
What do we do now, build a nest?
Another scene I really like is when Steed is talking to that army man, whilst his group is practising. He just continues to talk, while throwing handgranates, ducking away from gunshots, and they don't seem to be the least bit impressed by it. All the time they remain absolutely calm and continue to discuss their case.
Purdey talking to Steed on the phone when she's at Gambit's is hilarious too, the way she's impersonating all the noises she's hearing because Steed's calling from the "battlefield".
And ofcourse the end of the episode! Purdey handing Gambit her bra so he can use it as a catapult. And at the very end Purdey running into the minefield and getting rescued by that helicopter. The best moment ever is when she's being handed a bottle of champagne, and she just hangs on that ladder, drinking a glass of champagne. Brilliant ending to a fantastic episode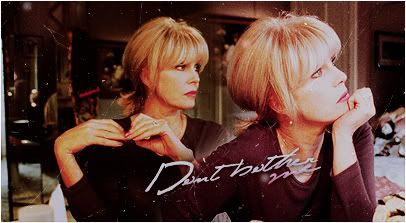 It is a miracle I can walk at all. I bless the wonder of life and the newness of living ~ Patsy Stone