Patsy Stone, 39, International style and beauty guru
Posts: 7888
Joined: 26 Jan 2008, 23:16
Location: Edinburgh
Favourite: Absolutely Fabulous
Forum Rules
General rules
1. Do NOT post offensive material (songs, movies, images with violent content, or porn)
2. Do NOT post offensive replies, or comments, that could affect someone's image, or that are discriminatory. Light swearing is allowed though, as long as it's not aimed at other forum members.
3. If your topic was closed or deleted, don't open a new one with the same subject. It will probably be closed or deleted as well (this only happens with useless topics, or ones that have already been discussed)
4. Do NOT post unnecessary replies just to increase your post numbers. We don't pay you for a larger number of comments, nor give you any advantages. If you're an active member you will get access to the media section, but spamming the forum with useless comments or smilies will not be considered active.
5. Be nice and polite to all the (new) members. If you find it difficult to be nice, then at least be polite.
6. If you consider something is wrong or unfair on this board, always email the Moderators or the Admins. They are the only ones who can help you.
7. Speculative and/or gossip-y topics about Joanna's private life of that of her relatives are considered disrespectful and are not allowed. Should anyone start topics of a speculative nature they'll be locked or deleted. Feel free to PM or email the administrators/moderators when you want to start a new topic and you're not completely sure about its contents.
If you have any questions, remarks, ideas etc. Don't hesitate to contact us at
[email protected]
Last edited by
Philippa
on 02 Jul 2008, 15:02, edited 1 time in total.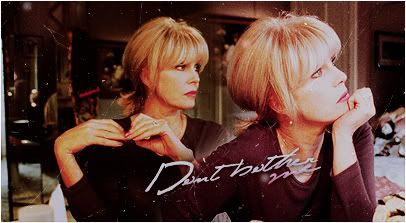 It is a miracle I can walk at all. I bless the wonder of life and the newness of living ~ Patsy Stone