Patsy Stone, 39, International style and beauty guru
Posts: 7888
Joined: 26 Jan 2008, 23:16
Location: Edinburgh
Favourite: Absolutely Fabulous
Timeless A-Peel wrote:

SapphiresAndCiggies wrote:

Timeless A-Peel wrote:He definitely got a lot of humour in there as it was. But I'm sure he would have done even more given the chance.

Oh he definitely did :D When Purdey is just casually feeding him orange in the midst of a pretty epic car chase- genius

But agreed; he would've added so much more :3

That's possibly one of the best scenes in the entire series. I never get sick of watching it.
That's one of my favourite scenes as well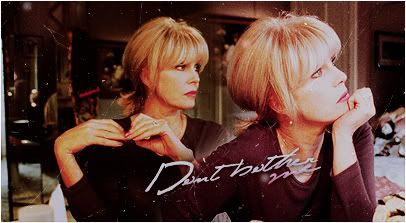 It is a miracle I can walk at all. I bless the wonder of life and the newness of living ~ Patsy Stone