Patsy Stone, 39, International style and beauty guru
Posts: 7888
Joined: 26 Jan 2008, 23:16
Location: Edinburgh
Favourite: Absolutely Fabulous
I know this isn't really a forum related problem, but perhaps someone will be able to help me. I've been trying to upload stuff for the media section (so maybe this is forum related after all
) but both megaupload and sendspace take ages, and rapidshare just keeps failing after about a minute into the upload. Is anyone else experiencing similar problems? Or could it be something to do with my computer, a firewall blockage perhaps?
The internet I'm using here at my parents is super fast, so that's not the problem.
I'll be eternally grateful to whoever can help me out.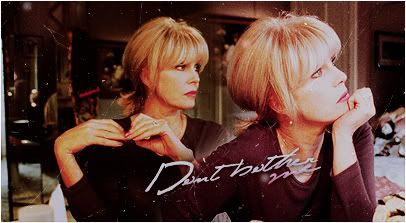 It is a miracle I can walk at all. I bless the wonder of life and the newness of living ~ Patsy Stone